Benefits of All-Season Tires
Posted on August 03, 2020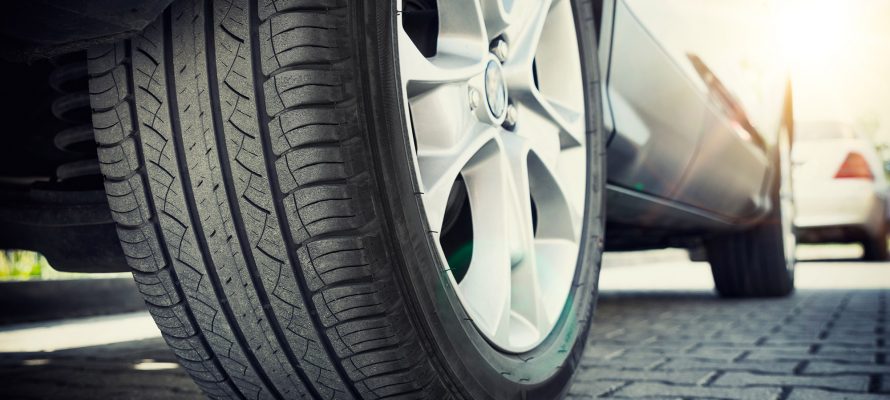 We are here to answer all your tire questions and guide you to understanding what makes the most sense for your vehicle. Today we're going to unpack everything you need to know about all-season tires. There are winter tires, summer tires and all-season tires – but what does all-season actually mean?
Having the right tires matters—they have a direct impact on your vehicle's safety.  The experts at WJ Kuhn Automotive are here to help you confidently select tires that are best for your vehicle and lifestyle. Read on to learn more about all-season tires and the benefits they provide.
About All-Season Tires
All-season tires are made of a rubber compound that's been designed to extract water and provide quality traction. They are equipped with moderate tread depths to conquer many different road conditions—but they work the best when the temperature stays above freezing. Inevitably, there are some compromising performance capabilities in extreme conditions. All-season tires are not meant to handle large amounts of ice and unplowed snow. Check out our article all about winter tires right here. Think of tires like shoes—while you could wear tennis shoes all year long, they are not ideal for all situations like hiking in the woods or walking along the beach.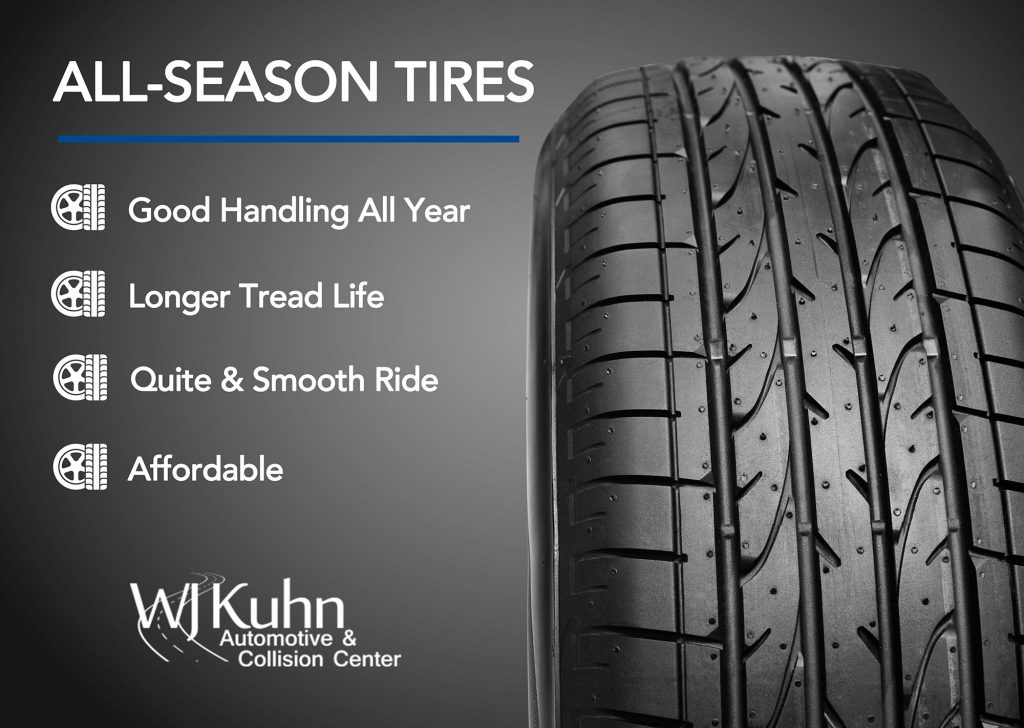 Good Handling All Year Long
The first and most obvious benefit of all-season tires is that they offer versatile performance in a variety of road conditions. All-season tires allow you to have excellent control and shorter break time on wet, dry or slick roads—giving you a great, well-rounded driving experience. All-season tire technology offers a great blend of both summer and winter handling performance.
Longer Tread Life
Tire life is influenced by many factors—the tire itself, condition of the car or truck, roads commonly traveled, tire inflation as well as driving habits. For example, constant high speeds, carrying heavy loads, hard braking, etc. have a damaging effect on tire life.  That being said, all-season tires tend to excel in longer tread life.  A typical set of all-season tires can last anywhere from 50,000-70,000 miles, or even more. No matter what type of tires you choose, WJ Kuhn recommends regular tire inspections to maximize their lifespan. Our technicians will check wear and tear as well as any physical warning signs of tire aging.
Quite & Smooth Ride
If you're hearing a constant hum, squeal or whistle while driving down the highway, It's most likely the sound of your tires. Winter tires can be loud because of their multitude of tread patterns.  All-season tires offer the quietest and most comfortable ride due to their consistent grooves, ribs and slots that decrease noise and improve overall stability.
Affordable 
All-season tires are commonly more affordable than summer tires or winter tires. Not only are the tires themselves more affordable, but they also offer better fuel efficiency—saving you at the gas pump. Make an appointment with WJ Kuhn to help you select the tires that meet your vehicle's recommend size, speed rating, load capacity and other specifications.
Drive with Confidence
Before replacing your tires, keep in mind your driving conditions, the climate and performance needed. We understand that choosing the right tires can be challenging. Don't worry—we've been there! Let us help fit your vehicle with the proper tires so you can get back on the road with confidence.
Schedule an appointment here, call us at 414-762-7900 or stop by our convenient location at 8511 S. Howell Avenue in Oak Creek.