5 Essential Summer Car Care Tips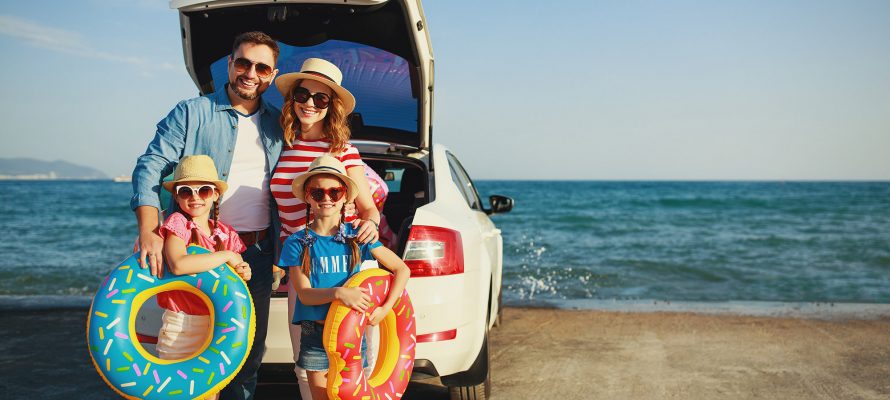 Whether you live in a state with all four seasons or not, summertime is the best time for road trips with family or friends. It might just be a four-hour cruise up north for the weekend or a whole summer-long National Parks tour. Whatever you're planning, let us help you out with the best start possible. Before you hit the road, there are a couple of things we recommend you check to keep you from unwanted car trouble along the way.
About summer heat and your car
Often times, we spend a lot of time warning about winter car care and don't get into the potential dangers that hot summer sun can do to your car. Don't worry – we're not going to talk about how your hand sanitizer left in the car could spontaneously burst into flames. (Snopes determined that to be highly unlikely.) However, the heat can cause systems, tires, fluids and more to need a little extra attention. Let's get into the top 5 essential summer care tips!
#1. Essential Fluids
While the heat can certainly cause a car to overheat, heavy amounts of driving can, too. One of the ways to avoid that is to be sure to check your essential fluids regularly. Fill coolant, transmission, differential, power steering and brake fluids to the suggested levels if you see that they are low. Check on the quality of your oil – If there's a lot of sludge present or the oil is a dark color, take your car in for an oil change and filter replacement.
Also, be sure to take a quick peek under the car and check along the hoses and reservoirs for any leaks. Those fluids don't do any good if they're not staying in the system. Make an appointment with WJ Kuhn to get your fluids checked and topped off.
#2. Stay Cool with a Working AC System
As much fun as open windows are, now's the time to get those AC kinks worked out. We recommend having your AC unit serviced every three years or as needed. If your cooling system is already on its way out, don't count on it lasting the summer. A simple check by our team of professionals can ease your mind about your car's AC health and longevity.  We can also check for low refrigerant levels – which can often be the cause of AC issues – and easily remedy that.
For more specific tips on AC system care, check out our past blog on your car's heating and cooling systems.
#3. Tire Check
Summers can be surprisingly tough on your tires. Fluctuating temperatures can mess with the tire pressure and potholes from extreme temperatures can be very dangerous. You want to make sure your tires are in tip-top shape to handle all these challenges. Here are a couple things you can do to prolong their life this summer:
Be sure your tires are inflated to the correct specifications
Swap your winter tires out for your summer tires
Check the tire tread depth
Check tire tread for nails, small stones, etc.
Come in for an alignment and balance
Recommend rotating your tires every 6,000 miles or every other oil change
#4. Secure Hoses & Belts 
Did you know that belt failure increases exponentially once a car gets past 36,000 miles? Be sure that you or your car-care experts at WJ Kuhn check your serpentine belt for damage or cracks. Your belt's texture will alert you to an issue, too – a smooth or frayed belt can indicate extreme wear.
Hoses should be checked for leaks or cracks. When the engine is cool, reach in and squeeze the hoses – they should be firm, not soft or flexible. Give extra attention to the areas around clamps.
#5. Summer Cleaning
Last but certainly not least, be sure to give your car a thorough cleaning. The windshield is notorious for hiding dirt and grime well until that noon-day sun hits and your visibility becomes foggy at best. A good wash can also keep rust away. Salt and other residue from the winter should not follow you into the summer. Did you know that caked on grime can raise the temperature of the engine and transmission on a running car?
Be sure to wipe down the interior and hose down the floor mats. All these surfaces can become a breeding ground for germs if they are not properly taken care of. Consider having your car's interior detailed to save you the hassle.
Happy Car = Happy Summer Travels 
When you take good care of your car, it takes good care of you. That's exactly what you're hoping for when you venture out for a long road trip or family vacation. WJ Kuhn wants that same thing for you, too. Get in touch today to learn about all the different ways we can help your car be summer-ready.
Schedule an appointment here, call us at 414-762-7900 or stop by our convenient location at 8511 S. Howell Avenue in Oak Creek.