Car Heating & Cooling Systems Explained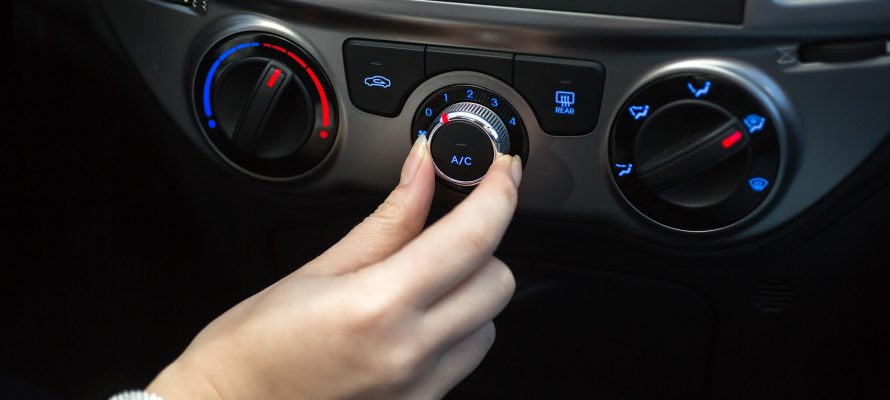 With humid summer temperatures just around the corner, now is a great time to ensure your air conditioning (and heating) system in your vehicle is running properly. A poor performing A/C system could lead to expensive repairs down the road.
It's also important to note that while you may not be using the heat in your car for the next few months, it actually plays a vital role in keeping your engine cool on super-hot days.  Let's get into the nitty-gritty of your car's heating and cooling system.
SIGNS YOUR HEATING/AC SYSTEM MAY HAVE ISSUES
It's pretty obvious during hot days when the A/C in your car isn't working. But, that's not always the only sign of a failing heating/cooling system. Here are just a few other indications your system may be having issues:
Minimal air flow through vents—even when at the highest setting
Heater blows cold air, and air conditioning blows warm/cool air
Smell when using defrosting (damp, musty, moldy or mildewy)
Unusual noise when using the heating or cooling function
Vehicle overheats
The technicians at WJ Kuhn are here to help keep you cool throughout the summer. Book your appointment for a comprehensive heating and A/C evaluation today.
HEATERS KEEP THE ENGINE COOL
As we mentioned, your car's engine cooling system is directly related to the heating system. Both heating and cooling are essential functions in both the summer and winter.  If your heating system is not functioning properly it can cause your engine to overheat on hot days—it could even cause a breakdown.
REDUCE THE RISK OF COMPRESSOR FAILURE
The compressor is the most critical component to your car's A/C system—it's also one of the most expensive to replace. Regular maintenance of your vehicle's heating and A/C system will ensure proper lubrication and refrigeration levels which reduce the risk of compression failure. On top of that, regular maintenance of your vehicle's heating and A/C system can improve your vehicle's fuel efficiency, saving you money—to spend for that next summer road trip!
KEEPS YOU HEALTHY
When you get your A/C checked with WJ Kuhn, one of our main tasks is to check your air filter and replace it if necessary. These air filters trap pollen, dust, bacteria and gross exhaust fumes so you and your passengers aren't breathing in these pollutants.  When these filters get too dirty or clogged, it can cause problems. Unpleasant odors, headaches, breathing problems and even allergic reactions can be a result of not taking proper care of your vehicle's heating and cooling system.
COMPREHENSIVE EVALUATION
Any time you have a problem with one area of a vehicle, you always want a comprehensive evaluation so that you can ensure there are no other issues as a result of the problem area. This is something that the experts at WJ Kuhn always make sure to do. When you come in to have your A/C and heating system checked, the following items should also be completed: 
Inspection of internal controls and blower
Analysis of radiator coolant temperature, hoses, pressure, and thermostat
Inspection of the compressor belt
Check for leaks or damage
Ensure A/C pressure meets the correct specifications
Check cabin air filters and replace if needed
Testing of cabin vent temperatures
Visit us before the summer heatwave hits!  Book your appointment online with our automotive specialists.
GET READY FOR SUMMER
There are so many exciting destinations you can get to by car and we want to ensure that you get there AND back in comfort and safety. One of the key components to this is having an A/C and heating system that is in working order. Even if it's running smoothly today, it's still a good idea to have a basic check-up before you hit the summer road trips.
Schedule an appointment here, call us at 414-762-7900 or stop by our convenient location at 8511 S. Howell Avenue in Oak Creek.